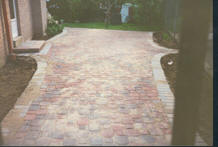 Originally interlocking stone was like a jigsaw puzzle, the stones would be fit into place and then lock to each other. Most available stones no longer do this. The stones are symmetrical, and don't lock in place. They are placed and the surface compacted with a "tamper" to give it a solid base.

Paving stones are available in a wide variety of colours and shapes. They can be placed in elaborate patterns to give a mosaic effect.

More about Interlocking Stone Services ...